Pastor: Fr. Nestor Gregoire OMI
Sunday Mass Times: 11:00am and 5:00pm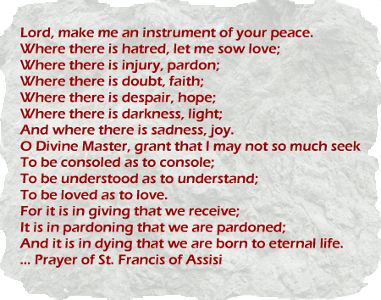 Our Mission: St. Joseph's parish is called to be a faith community, welcoming all people as we celebrate God's love through Word and Sacrament. We are sent out into the world to be Christ's hands and feet, in humble and simple ways, while reaching out and accepting the poor and those in need with compassion and respect.
535 8th Street East,
Saskatoon,SK
Corner of 8th Street and Broadway

e-mail: stjosephparish@sasktel.net
Tel: 306-244-1556
Fax: 306-242-8916

Missed a Sunday Bulletin? Look no further. Click on the link below to view
Parish Bulletins
Diocesan Bulletins
Announcements:
St. Joseph's Advent Potluck Supper: Sunday, December 4th @ 6:15 p.m. at the Parish Hall. Families with last names beginning with the letters A-L bring a meat entree (e.g. casserole). - M-Z bring a vegetable dish or Potatoes Plus a dessert. Please be generous bring enough for your family plus extra. Also please make sure that your food is ready to be served (does not have to be cooked or assembled). Buns and beverages will be supplied. Help will be needed to set up tables, helping in kitchen, clean up etc. Please call the parish office @ (306) 244-1556 if you are available to help.
St. Joseph's Christmas Hamper Project: It has become a tradition in our parish to use this time to provide in a special way for the needs of others. In particular provide Christmas Food Hampers and gifts to the families at Adelle House as well as those in need in our neighborhood and surrounding area. You can contribute to this project by: Provide a gift for a child whose name you have selected from the Parish Gift Giving Tree. Gift name tags will be hung on the tree ready for selection on the First Sunday of Advent, November 27th. Value $25.00 to $30.00 - Gift wrapped and labeled with the Gift Tag selected from our tree. Donate non-perishable food items or make a cash donation toward the Hampers. Suggested items for Hampers: canned vegetables, canned fruit, small jars of jam, peanut butter, cheese whiz, crackers, pork'n beans, Kraft dinner, fruit cocktail, jello, coffee, cold cereal or oatmeal, flavored drink crystals, cranberry sauce, spaghetti sauce, pasta, tomato soup. Bring your gifts/food items to Sunday Mass on Dec. 4th, or Dec. 11th and leave it at the main entrance of the church - it will be placed under the Parish Gift Giving Tree during the Offertory Procession. Or Gifts may also be dropped off at the Parish Office.
Prayer and the Daily Scripture: There is another great site for daily prayer from the Irish Jesuits. It is called Sacred Space The daily prayer walks you through a process of prayer and the daily Scripture reading. It is easy to use and moves at your pace.
Parish Events
More About US:
St. Joseph Parish is part of the Roman Catholic Diocesse of Saskatoon. We have been a parish since 1928. We are small but vibrant community with a strong sense of social justice. Our facilities include an office in the rectory beside the church and a hall available for special occasions and organizations.
Parish Staff Fr. Nestor Gregoire OMI
Parish Secretary: Darlene Urquhart Office Hours Monday through Friday - 9:00am to Noon, 1:00pm to 5:00pm
Summer Hours: 8am - 4pm (Mon, Tues, Thurs, Fri) Sunday Liturgies
Weekday Liturgies 11:00am and 5:00pm
Monday through Friday 9:00am - No liturgy when a Funeral is scheduled Children's Liturgy

After opening prayer at the 11:00am Sunday Liturgy

Infant Baptism If possible, call the Rectory several months before child's birth.
Pre-requisite preparation classes scheduled in the Fall and Spring. Marriages

Contact Rectory at least 6 months in advance.